Zeiss AXIO Observer Microscope with PALM MicroBeam LCM SOLDOUT
Brand:
Carl Zeiss
Product Code:
11030
Availability:
SOLD
Zeiss AXIO Observer Microscope with PALM MicroBeam LCM SOLDOUT | Priced $0.00 | bostonind.com (11030)
Here is a Zeiss AXIO Observer Microscope with PALM MicroBeam LCM

Please note: we do not have the software for the Zeiss Pal Microbeam Laser Dissection components. If you would like this can be converted into the regular Microscope.

We did speak with Zeiss and this is what you can get it to make it like new and upgraded to the current laser.
Estimate from Zeiss for Software, Installation, and all dongles to control PALM Microbeam system fully is listed below.
-Upgraded LCM Microbeam from MBIII to MBIV laser system
-Upgraded PRS to 4.8 Pro
-Full Workstation with included Zeiss Software running Windows 7
-Upgraded Imaging system with Software and AxioCam
The above components are quoted at $19,337.00 from Carl Zeiss Microscopy

If you end up getting this upgrade and support from Zeiss you will end up paying less than 35% vs buying new for the up to date configuration.
New this setup is between $170,000-$190,000

Predecessor to:
Current model.

Condition:
Zeiss AXIO Observer Microscope is in good working order.
All Aspects of the AXIO Observer have been cleaned professionally by our technician under a class 10,000 clean room hood.

Please see the detailed video and photos below.

Testing we performed:
The Zeiss Observer Fluorescence Inverted Microscope passed following tests:
Tested Halogen Lamp and source fully.
Tested Mercury Lamp and source fully.
Tested connection from camera and Microscope to computer.
Tested live feed from the camera to computer.
Tested all filters and prisms.
Tested all microscope buttons and adjustments to be working fully.
Tested Communication and Control of the Microscope from the TFT-Display Control Module.
Tested all Motorized components including: Fluorescence Turret, Objective Turret, Z-Axis, Condenser Turret, Fluorescence Shutter, Halogen Shutter and Light Path Switching.

System consists of:
Base:
Zeiss Observer Inverted Fluorescence Microscope with PALM MicroBeam LCM system.
Head:
Binocular tube 45/23
(2) W-PI 10x/23 Eyepieces
Prisms / Condenser:
Zeiss LD Condenser 0.55 H 6 Position Motorized Turret
Condenser Prisms, Ph1, Ph2, Ph3, DIC, H
Brightfield Path:
Carrier for Transmitted-light Illumination.
Fluorescence Path Filters:
Motorized Path Shutter.
Fluorescence Turret/Cubes:
Motorized 6-Position Turret.
Set 14 EX 510-550nm DM 580nm EM LP 590nm
Set 10 EX 450-490nm DM 510nm EM515-560nm
Set 01 EX 365/12nm DM 395nm EM LP 397nm
Laser Cube 1046-281 HR 335 +1064 HT 395+vis/45
Illumination:
Zeiss Hal 100 12V 100W Halogen Lamp Housing.
X-Cite 120Q Mercury Lamp w/ Culminating adapter.
Stage:
RoboStage II Motorized XY stage (controlled via PALM MicroBeam LCM)
Zeiss Joystick.
Objectives:
6-Position Objective nose piece.
2.5x/0.075 EC Plan NEOFLUAR
5x/0.25 FLUAR
10x/0.50 FLUAR
20x/0.4 Korr LD Plan NEOFLUAR
40x/0.6 Korr LD Plan NEOFLUAR
Photo/Port Split:
100% Left or 50% Left 50% Eye or 80% Right 20% Eye
Motorized Components:
Fluorescence Turret, Objective Turret, Z-Axis, Condenser Turret, Fluorescence Shutter, Halogen Shutter and Light Path Switching (TESTED)

PALM MicroBeam System: (SOFTWARE REQUIRED)
CapMover II 418101-2000-405
3CCD Video Camera Hitachi HV-D30
JoyStick 415101-2000-141
RoboStage II Motorized XY Stage 415101-2000-130
MicroBeam solid state laser system, 355nm, 100 uJ 2000-0110
Shutter PALM 415101-5200-150
Zeiss PLAM MicroBeam Main Control BOX

Configuration and Setup:
Orientation: Inverted
Illumination: Bright Field, Phase Contrast, Fluorescence
Objectives: EC Plan - NEOFLUAR 2.5x/0.075, Fluar 5x/0.25, Fluar 10x/0.50, LD Plan - NEOFLUAR 20x/0.4 Korr, LD Plan - NEOFLUAR 40x/0.6 Korr
Light Sources: Zeiss HAL 100 12V 100W Halogen lamp, X-Cite Series 120 Fluorescence Lamp
Stage Type: Zeiss RoboStage II 415101-2000-130

This Zeiss Observer Inverted Microscope with PALM MicroBeam LCM system is Currently set up for Brightfield with Phase Contrast, and Fluorescence Studies.
The PALM MicroBeam is Currently set up with Motorized XY Stage, CapMover II, Microbeam solid state Laser, joystick and Control Box.
This system does NOT have software to control the PALM Microbeam system.
The Zeiss Observer Inverted Microscope has many motorized systems that have been tested fully with Control from the TFT-Display Control Module.
These systems include the Fluorescence Turret, Objective Turret, Z-Axis, Condenser Turret, Fluorescence Shutter, Halogen Shutter and Light Path Switching.
There are 5 Objectives included with this microscope ranging from 2.5x to 40x.

Video Description:
The video starts off with a full view of the Zeiss AXIO Observer Inverted Microscope with PALM MicroBeam LCM in its entirety.
This listing does NOT include the Laptop and is only shown for live feed view of microscope optics.
The camera pans into the control box for the PALM system, the power supply for the Zeiss Observer Z1, and then to the TFT control touch screen.
The camera pans back to show the PALM Laser box installed on the same base plate as the microscope.
The camera then pans around the microscope showing all visible aspects of the Zeiss Axio Observer .
It also brings into focus the CapMover which is part of the PALM system. The Fluorescence X-Cite lamp is shown.
The control touch screen is brought into focus and is used to turn on and off the Transmitted light Illumination showing both live feed to the computer and control of the microscope.
The Control touchscreen is then used to move the Objective Turret. Next the Light Path shutter is opened for the Fluorescence light.
The Filter Cubes are revolved to show the different color cubes that are installed as well as control of the turret.
The control box is shown adjusting the Z-axis focus on the Zeiss AXIO Observer Microscope. The live feed is shown being brought into and out of focus.

Documentation:
Datasheet: https://drive.google.com/file/d/0Bz5srQzgsa6uY0kwVDdlVVFPbjg/view?usp=sharing

Brochure: https://drive.google.com/file/d/0Bz5srQzgsa6uWjFzMVpTcXZiQW8/view?usp=sharing

Manual: https://drive.google.com/file/d/0Bz5srQzgsa6uLUZnNjZ2bDVuQ1E/view?usp=sharing

This will ship via freight. Please contact us with your zip code to obtain shipping quote.

Please do not hesitate to contact us if you have any questions.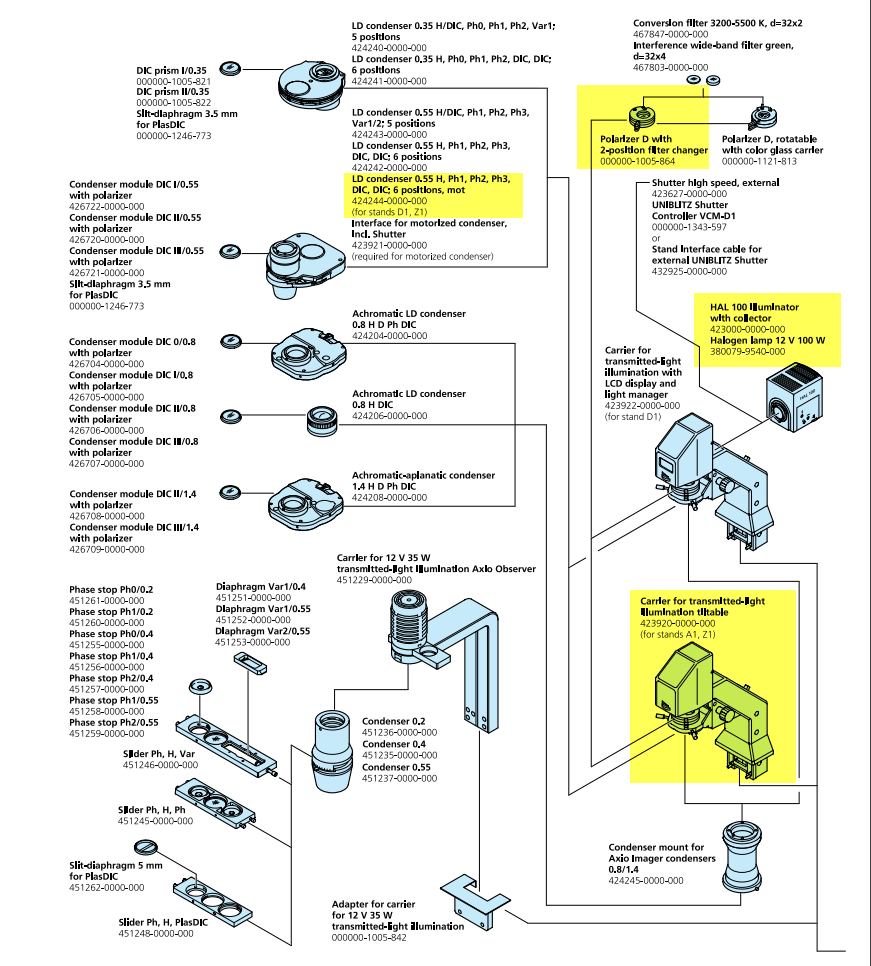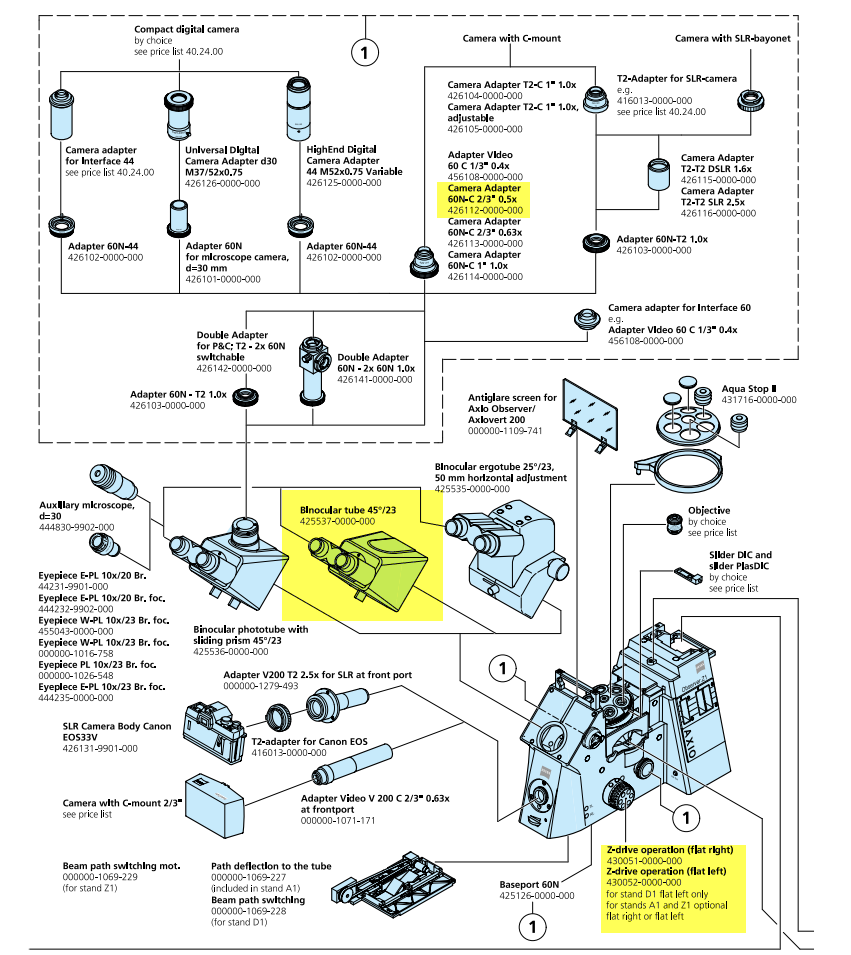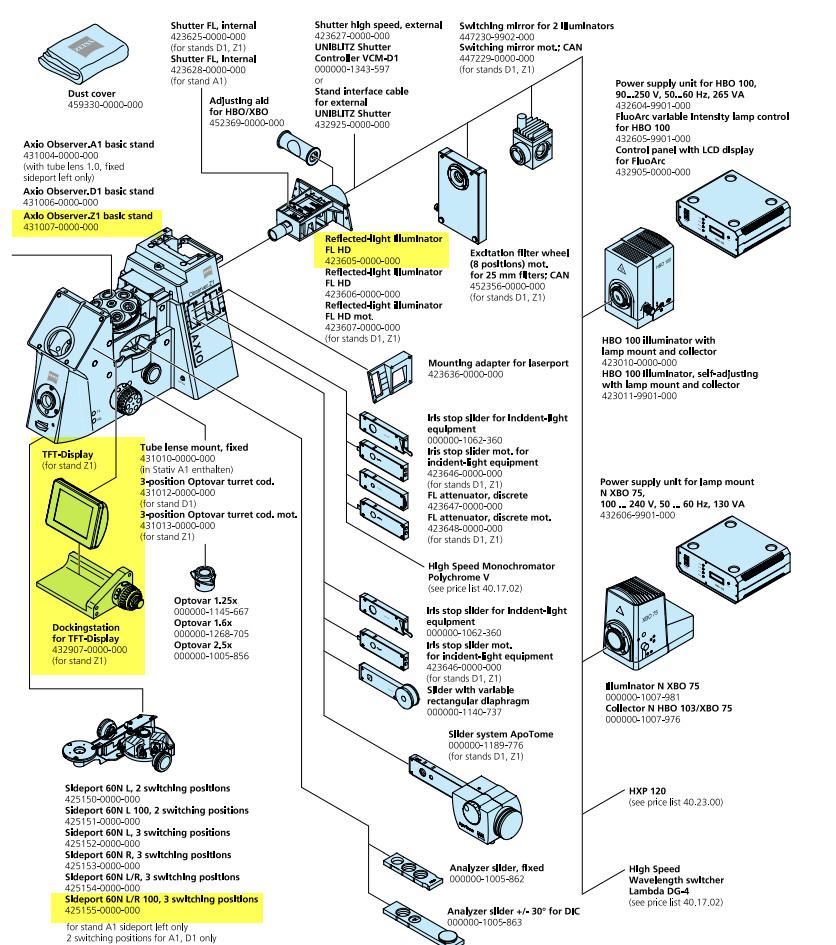 Zeiss AXIO Observer Microscope with PALM MicroBeam LCM SOLDOUT
Manufacturer Description and Specification:
Zeiss Axio Observer Microscope is your stable research stand for demanding multimodal imaging of living and fixed specimens. This inverted microscope offers the latest generation of LED illumination for gentle imaging.
And creates the optimal environment for a whole range of samples to deliver reliable, reproducible data. You can combine this inverted fluorescence microscope with a wealth of technologies and refine it to support your experiments precisely.
Combine complementary imaging modalities: the Axio Observer research stand offers an abundance of interfaces for technologies ranging from widefield transmitted light to convenient 3D sectioning with Apotome.2, and sensitive superresolution imaging with LSM 880 and Airyscan.
Choose classic micromanipulation and cell injection, or sophisticated laser microdissection.
Select the ideal microscope camera from a broad range of dedicated Axiocams or from third party cameras: you will always get the image quality, required speed and sensitivity you need for your applications.
Expect a significant boost in efficiency and throughput with automation features.
Adapt your objective to your sample: it's all automatic with this inverted research stand.
Easily perform your imaging when your inverted fluorescence microscope finds the focus of the sample for you – and keeps it there.
The Axio Observer inverted microscope is both versatile now and future-proof. With well-documented hardware and software interfaces to create your own customized system.
Choose the optimal incubation equipment and enjoy easy access to the sample for precise micromanipulation.
Use fast, switchable LEDs or go for powerful and economic white-light sources in combination with fast filters.
Manufacturer Documentation: