Tews Elektronik MW1150-SLE-10 Microwave Moisture Measuring System
Tews Elektronik MW1150-SLE-10 Microwave Moisture Measuring System | Priced $3,450.00 | bostonind.com (9110)
Here is a Tews MW1150 Microwave Moisture Measuring System

Condition:
The Tews MW1150 is in good working order and good cosmetic condition.

Testing we performed:
This Microwave Moisture Measuring System was able to communicate to the included TEWS Moisture View Lite software without errors.
Completed a sample run without any issues.

System consists of:
TEWS MW 1150 - SLE-10 Microwave Moisture Measuring System.
Dell Latitude i5 running Windows 7 Pro with TEWS Moisture View Lite Software.
Communication and power cables.

Configuration and Setup:
This system is designed to measure moisture levels from 0.1 to 70% in cigarettes and powders up to 9 ml in volume.
Measuring time takes less than one second for a sample.

12VDC 1.6A

Video Description:
The video begins with a full view of the TEWS MW 1150 which is being controlled by the software running on the laptop.
After a virtual tour of the MW1150 Microwave Moisture Measuring System the camera pans over to the laptop and shows two previous runs.
After cycling through the menus the video ends with a final full view.

Documentation:
Datasheet: https://drive.google.com/file/d/0BwHznQS-d5syUWswVzE0eTdPeXc/view?usp=sharing

Manual: https://drive.google.com/file/d/0Bz5srQzgsa6uQ0xyMkRkRV9GaEk/view?usp=sharing

Brochure: https://drive.google.com/file/d/0B72qmJtjIBo0aWZHcktoTGY4VUU/view?usp=sharing

Please do not hesitate to contact us if you have any questions.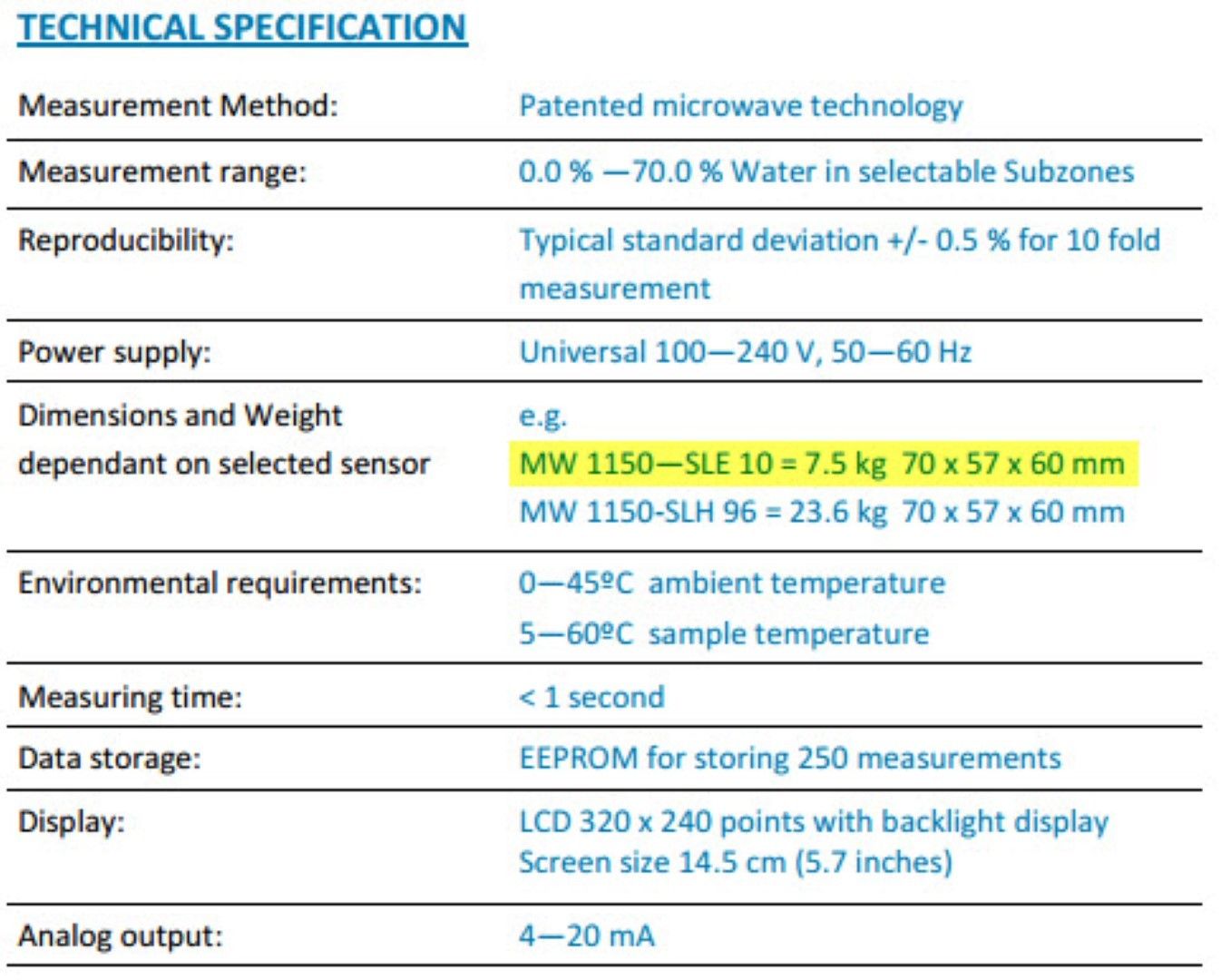 Tews Elektronik MW1150-SLE-10 Microwave Moisture Measuring System
Manufacturer Description and Specification:
The Tews Elektronik MW1150-SLE-10 Microwave Moisture Measuring System is a compact unit designed for use in quality assurance in a production environment, for routine measurement in a laboratory or the at-line installation. It allows for rapid and accurate moisture measurement of cigarettes, filters, cigars leaf and cut rag tobacco or tobacco dust dependent on which sensor head is fitted utilizing the microwave method.
Moisture results are obtained in less than 1 second with no sample preparation required and accuracy levels being unaffected by sample temperature or sample structure and density.
A low intensity microwave system is used for the measurement which ensures that samples are not heated or dried by the measuring process.
Set up, calibration and data transfer is completed via a PC connected to the appropriate port, cables and software are included along with PC software TMV-Lite (Tews Moisture View-Lite).
The Tews Elektronik MW1150-SLE-10 Microwave Moisture Measuring System FEATURES
• Requires no maintenance
• 25 article memory
• USB for data interface to PC
• Languages: German, English, Spanish, French, Italian
• Registers total moisture
• Rapid measuring time of 1 second
• Analog output options
The Tews Elektronik MW1150-SLE-10 Microwave Moisture Measuring System APPLICATIONS
• Laboratory
• Cigars
• Tobacco—Raw Leaf / Cut Rag / Dust /Sweepings /
• Reconstituted
• Filter rods
• Cigarettes
Manufacturer Documentation:
Tews Elektronik MW1150 Microwave Moisture Measuring System Datasheet
Tews Elektronik MW1150 Microwave Moisture Measuring System Brochure