Olympus IX71 Microscope Fluorescence Phase Contrast Pred. to IX73
Brand:
Olympus
Product Code:
12945
Availability:
1
Price: $10,995.00
Olympus IX71 Microscope Fluorescence Phase Contrast Pred. to IX73 | Priced $10,995.00 | bostonind.com (12945)
Here is an Olympus IX71 Microscope Fluorescence Phase Contrast Pred. to IX73

Setup for Brightfield with Fluorescence and Phase Contrast

Predecessor to:
IX73

Condition:
This Olympus IX71 Microscope is in good working order with all aspects tested and working fully.
Microscope optics have been cleaned professionally by our technician under a class 10,000 clean room hood.

Please see the exact video and photos below.

Testing we performed:
The Olympus IX71 Microscope passed all tests and was found to be fully functional:
Tested Halogen Lamp & Source fully
Tested Mercury Lamp & Source fully
Tested Objectives for clarity
Tested Eyepieces for clarity
Tested Port Splitter
Tested all fluorescence filters
Tested Mechanical XY Stage to limits
Tested Live Feed quality
Tested Connection from Camera to Laptop
Tested all knobs and light adjustments

During testing this microscope was found to have no issues.
A clear image was produced through the eyepieces as well as through the camera port.
All of the motorized components moved freely and the test sample was able to be focused without excessive effort

System consists of:
Base:
Olympus IX71 Inverted Microscope
Head:
U-B190CT Binocular Head
(2) WHN10X/22 Eyepieces
Prisms / Condensers:
IX2-LWUCD Condenser NA 0.55
Condenser Lens PhL, Ph1, Ph2
Brightfield Path:
IX-ILL100LH Illumination Tower
Manual Shutter
Fluorescence Path:
IX2-RFA Fluorescence light Path
Manual Shutter
Fluorescence Filter Cubes:
IX2-RFAC 6-position Turret
DAPI: EX 387/11nm DM 409nm EM 477/60nm
GFP: EX 482/18nm DM 495nm EM 520/28nm
VFP: EX 500/24nm DM 520nm EM 542/27nm
TxRed: EX 562/40nm DM 593nm EM 624/40nm
Illumination:
U-LH100L-3 12V 100W Halogen Lamp with TH4-100 Power Supply
U-LH100HG 19V 100W Mercury Lamp with U-RFL-T Power supply
Objectives:
6-position Mechanical Objective Turret
4x/0.13 UPlanFL N PhL
Stage:
IX2-SFR Mechanical Stage
Stage Ring Insert
Photo / Port Splits:
Left 100% or Head 100%
Camera:
AmScope MU300 CMOS 3.1MP Digital color camera
U-TV1X-2
U-CMAD3
Computer and Software:
Dell Latitude i5 running Windows 7 Pro with AmScope software

Communication and power cables.

Configuration and Setup:
Orientation: Inverted
Illumination Type: Brightfield, Fluorescence, Phase Contrast
Objectives: 4x/0.13 UPlanFL N PhL, 10x/0.30 UPlanFL N Ph1, 20x/0.45 LUCPlanFL N Ph1, 40x/0.60 LUCPlanFL N Ph2
Light Sources: 100W Halogen Lamp, 100W Mercury Lamp
Stage Type: Mechanical XY Stage

This Olympus IX71 Microscope is currently set up for Brightfield with Phase Contrast and Fluorescence studies.
The MU300 AmScope CMOS digital color camera is capable of taking detailed digital images.
The system includes a Dell Latitude i5 laptop running Windows 7 Pro to control the AmScope software.
With included Objectives of 4x, 10x, 20x and 40x, the 10x Eyepieces and the 1.6x internal magnification the maximum magnification of this microscope is 640x.

Video Description:
The video begins with a front view of the entire Olympus IX71 Microscope powered on. The camera pans to the live feed of the system.
The camera then pans around the Olympus IX71 Microscope to bring into focus all of the components included in the system.
The live feed is shown at the sample is moved around with the mechanical stage. Next the halogen lamp is turned off and the Fluorescence shutter is opened.
The filter cubes are rotated into the light path showing illumination on the sample.
The shutter is then closed and there is one final view of the entire Olympus IX71 Microscope.

Documentation:
Datasheet: N/A

Brochure: https://drive.google.com/file/d/0BwHznQS-d5sySDA1aU9VRjYwWGs/view?usp=sharing

Manual: https://drive.google.com/file/d/0Bz5srQzgsa6uYnVaTFRqWlNrc0E/view?usp=sharing

This will ship via freight. Please contact us with your zip code to obtain shipping quote.

Please do not hesitate to contact us if you have any questions.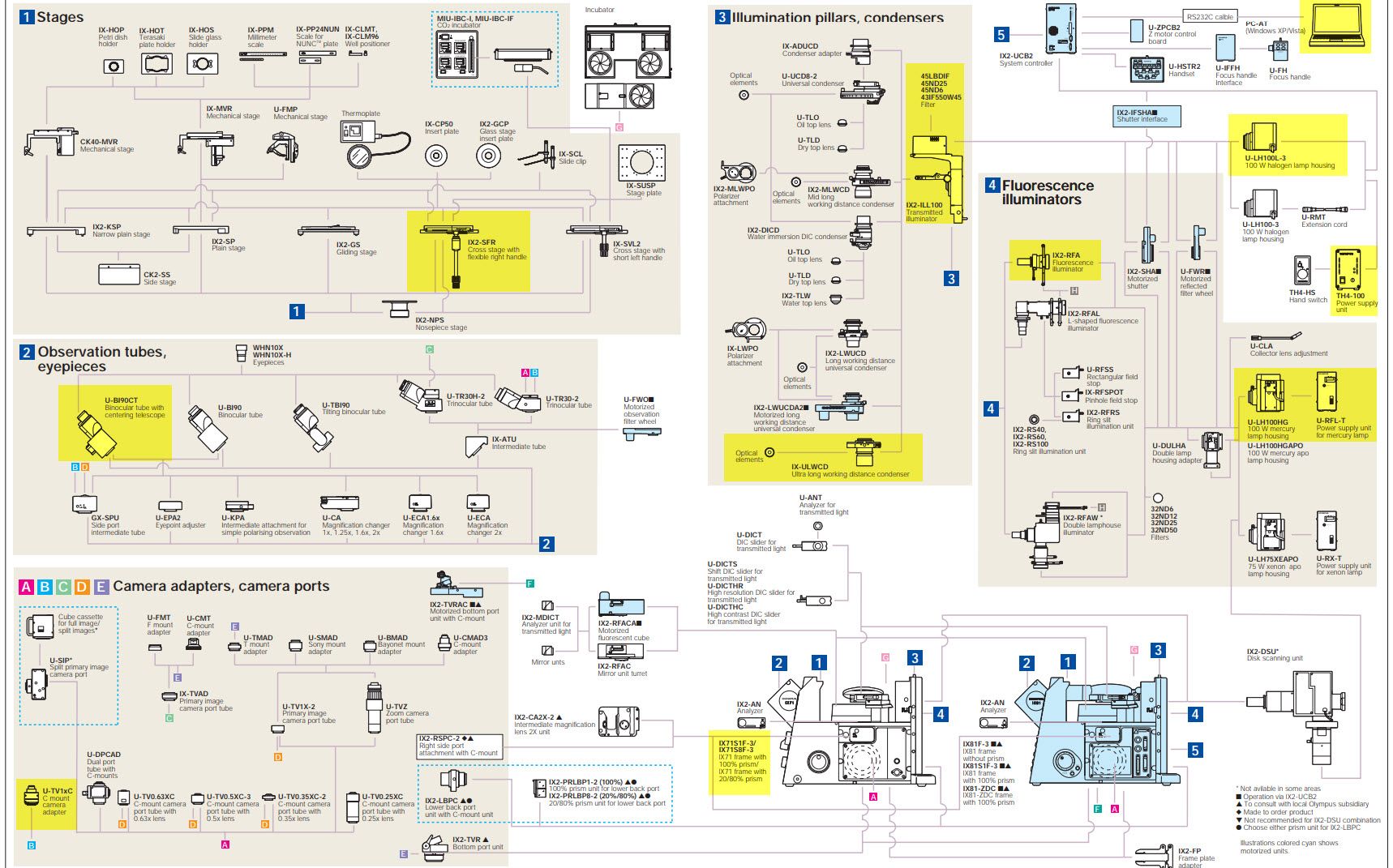 Olympus IX71 Microscope Fluorescence Phase Contrast Pred. to IX73
Manufacturer Description and Specification:
Manufacturer Documentation: