GE AKTA M-925 Mixer w/ 0.6ml Chamber
GE AKTA M-925 Mixer w/ 0.6ml Chamber | Priced $289.00 | bostonind.com (16790)
Here is a GE AKTA M-925 Mixer w/ 0.6ml Chamber

We have a total of (10) of these GE AKTA M-925 Mixer units. Each sold separately. (Note from Eric: Mark, please adjust qty to 10. I do not have ability to adjust)

Predecessor to:
N/A

Condition:
This GE AKTA M-925 Mixer is in good working order.

Testing we performed:
The GE AKTA M-925 Mixer passed all tests and was found to be fully functional:
Tested using UNICORN software ver5.1 to confirm functionality: PASSED
Tested/flushed all chamber flow ports: PASSED
Tested function of mixer motor:PASSED
Verified mixing chamber stir operates smoothly:PASSED

System consists of:
GE AKTA M-925 Mixer
0.6ml Chamber

Configuration and Setup:
FPLC Mixer w/ .6mL mixing chamber
Max Pressure Range: 0.6mL chamber: 25MPa at 0.001-100ml/min (100 bar, 1450 psi)
Flow Range- 0.001-100ml/min

Features:
- 2 step mixing
- Flow rates up to 100ml/mins
- Interchangeable mixing chambers with volumes of 90ul, 0.2, 0.6, 2, 5 or 12mL

Video Description:
Overview.

Documentation:
Datasheet: N/A

Brochure: N/A

Manual: https://drive.google.com/file/d/0Bz5srQzgsa6uRHIyLUVEcEtOUjg/view?usp=sharing

Please do not hesitate to contact us if you have any questions.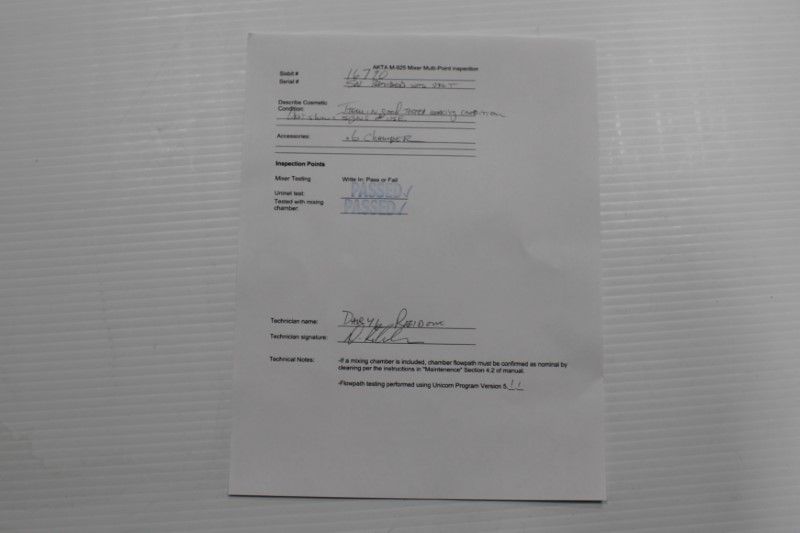 GE AKTA M-925 Mixer w/ 0.6ml Chamber
Manufacturer Description and Specification:
Manufacturer Documentation: