Eppendorf New Brunswick U101 Innova -86 Upright Freezer Sim. to U360, U535, U725
Eppendorf New Brunswick U101 Innova -86 Upright Freezer Sim. to U360, U535, U725 | Priced $2,995.00 | bostonind.com (10427)
Here is an Eppendorf New Brunswick U101 Innova Freezer -86 Similar to U360, U535, U725

This U101 Innova is similar to U360, U535, U725 - the only difference is capacity.

All Freezers are either from 2013 or 2014 and might have some scuffs.

Predecessor to:
Current model.

Condition:
This New Brunswick U101 Innova Freezer is in good working order

Testing we performed:
The Freezer passed all tests and was found to be fully functional:
Tested initial power.
Tested adjustment or unit temperature.
Tested all front buttons.
Tested Actual temperature of cooling chamber.
Verified temperature of cooling chamber with calibrated temperature probe for each unit.

System consists of:
New Brunswick Scientific Innova U101 -86 Freezer.
Power Cord.
Keys to Unlock Power Switch and Front Door.

Configuration and Setup:
Internal Dimensions: H 25.2 inches x W 18.9 inches x D 13 inches
External Dimensions: H 32.7 inches x W 35.4 inches x D 22.3 inches
Port Diameter: 13/16" (0.79 inches)
Capacity: 101 liters (3.6 Cubic Feet)
Net Weight: 256 lbs
Locked Power switch.
Locked Chamber Area.
2 Freezing Compartments.
Interior material: Stainless Steel 304L
Audible Alarm.
120 Volt 265 Watt 13 Amps
Cooling time to -86 degrees Celsius: 3.7 hours.
Performance ambient temperature: for -50 to -86 degrees Celsius ambient temperature of maximum 35 degrees Celsius.
Ambient temperature Range: 10-35 degrees Celsius.

Documentation:
Datasheet: N/A

Brochure: https://drive.google.com/file/d/0B72qmJtjIBo0MHJhdUM0eExXcFE/view?usp=sharing

Manual: https://drive.google.com/file/d/0B72qmJtjIBo0UmhGZFZfU0R5WHM/view?usp=sharing

This will ship via freight. Please contact us with your zip code to obtain shipping quote.

Please do not hesitate to contact us if you have any questions.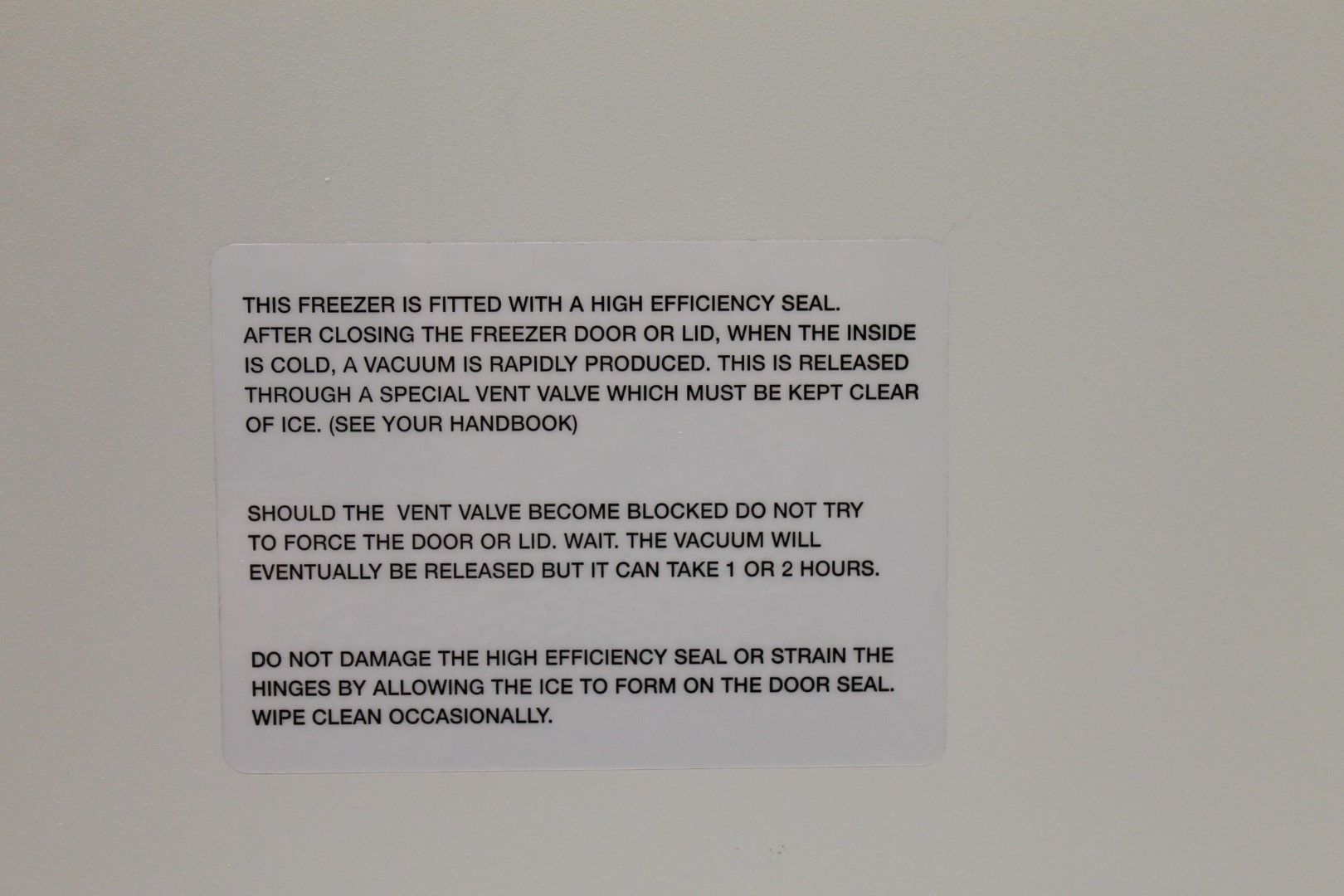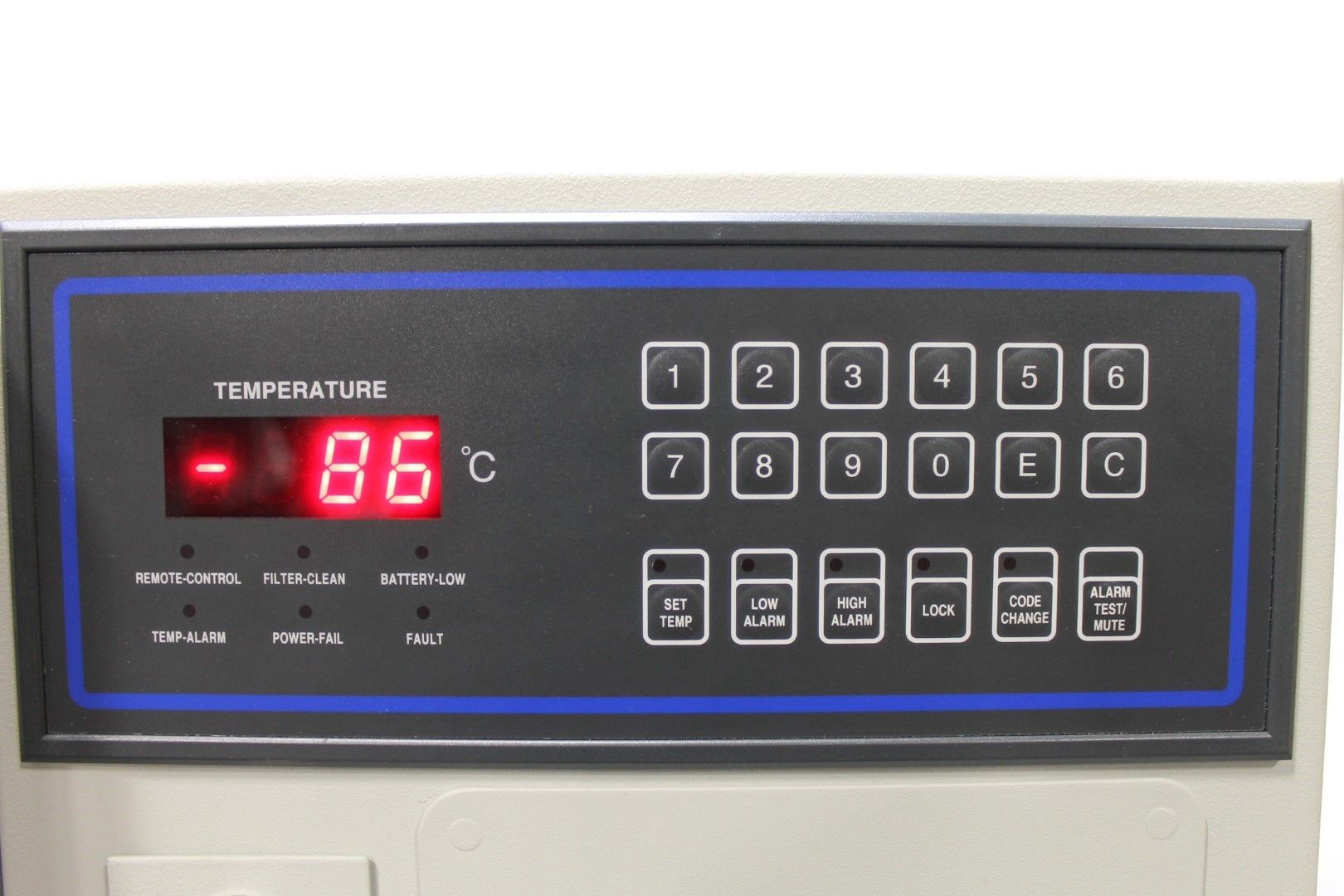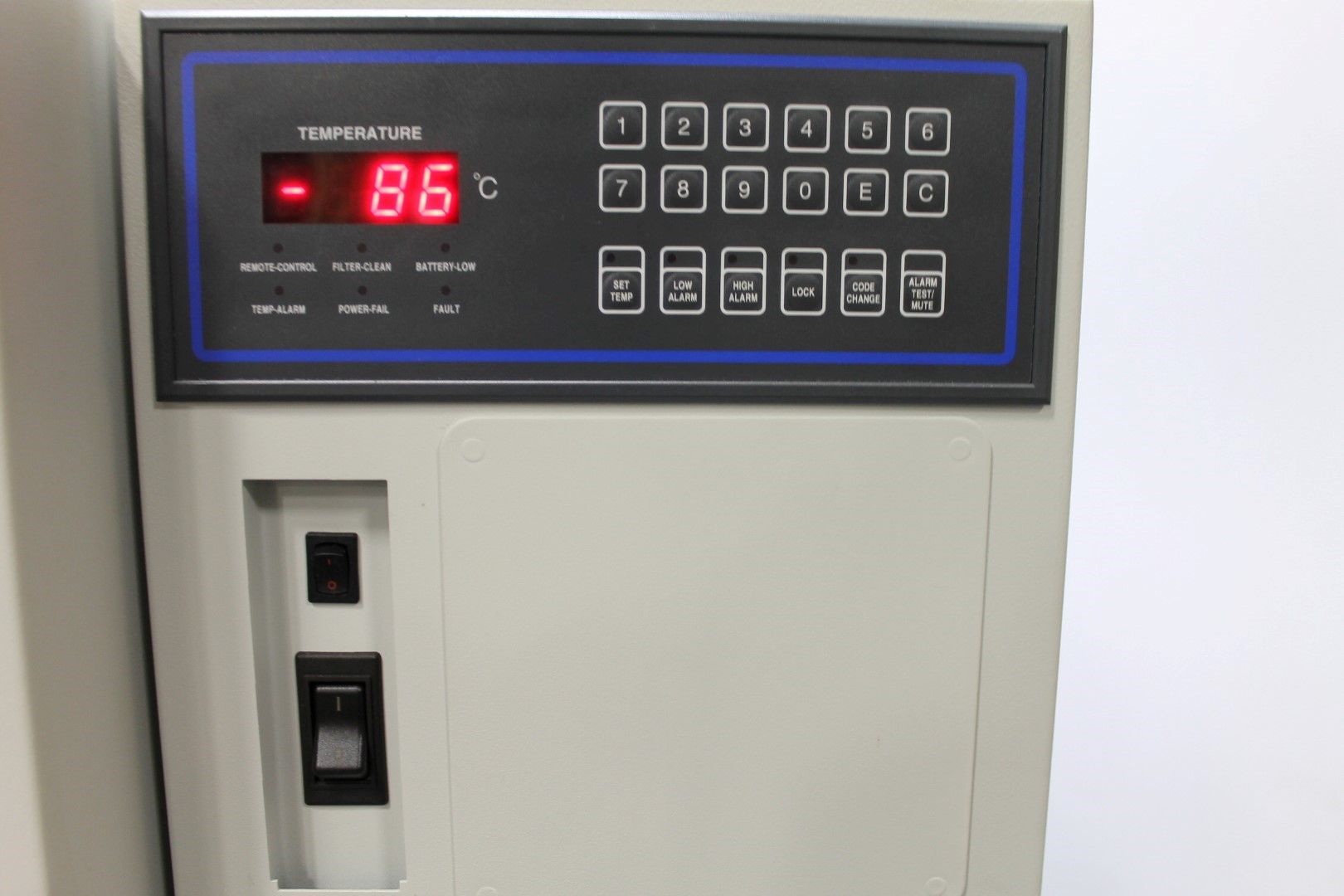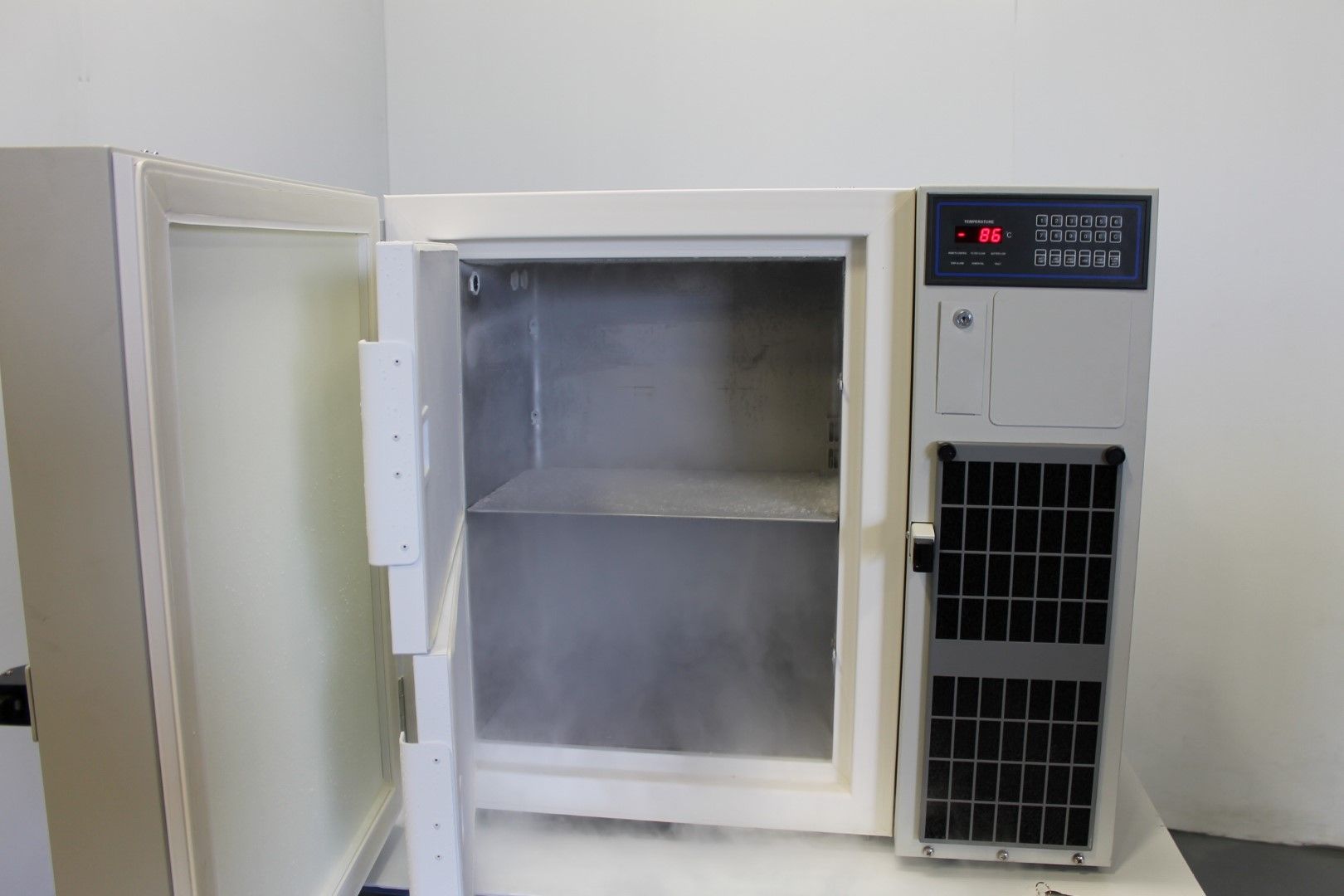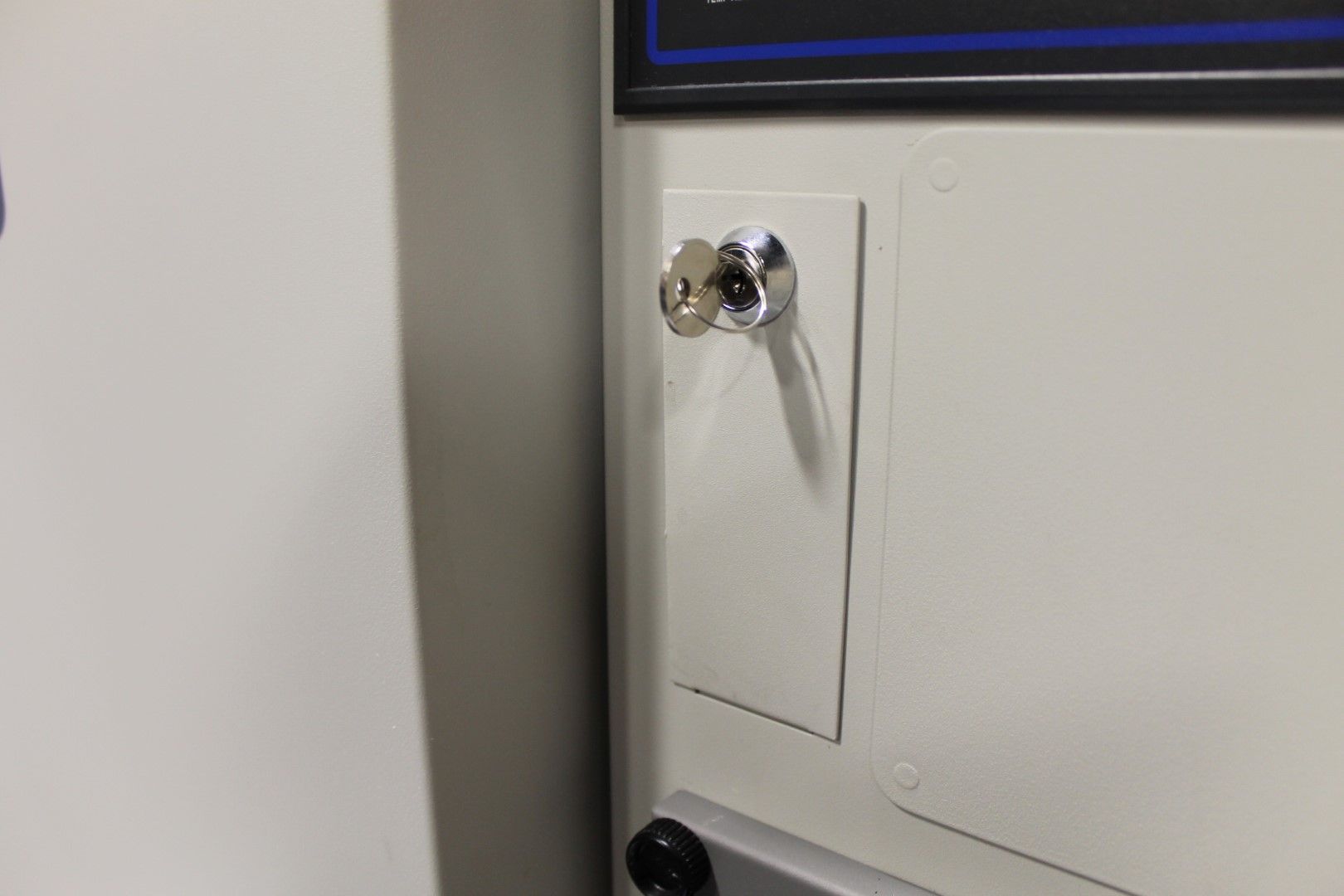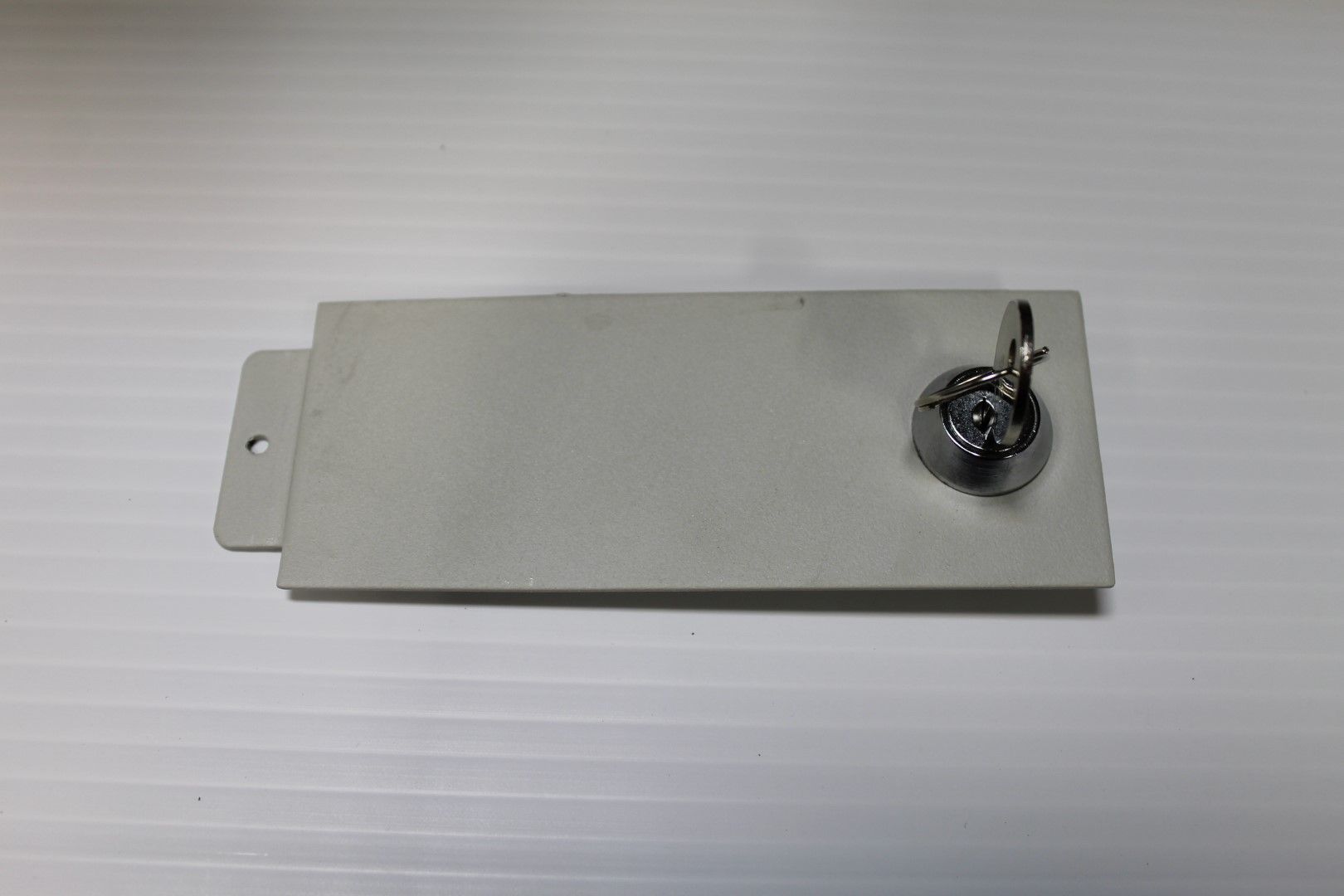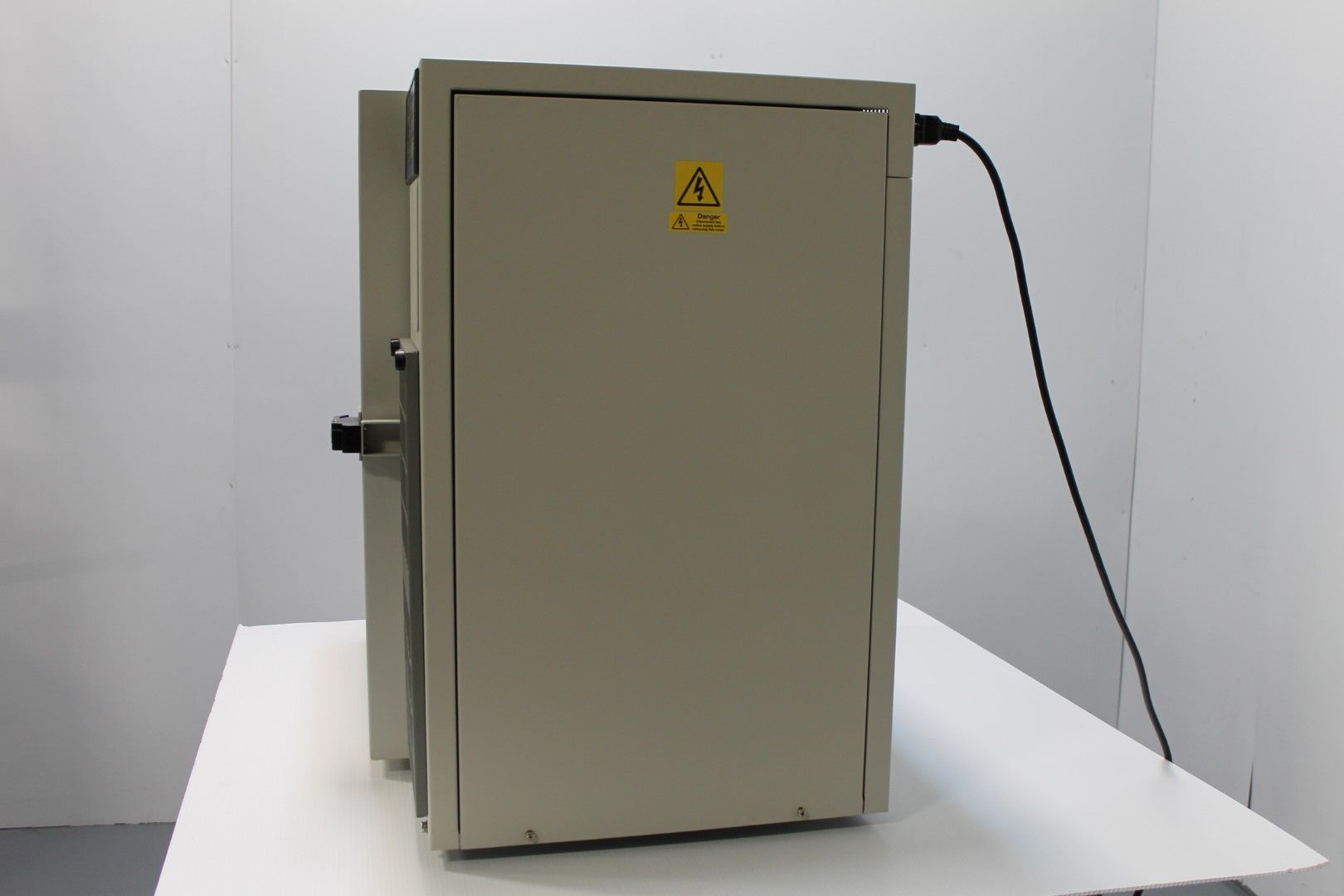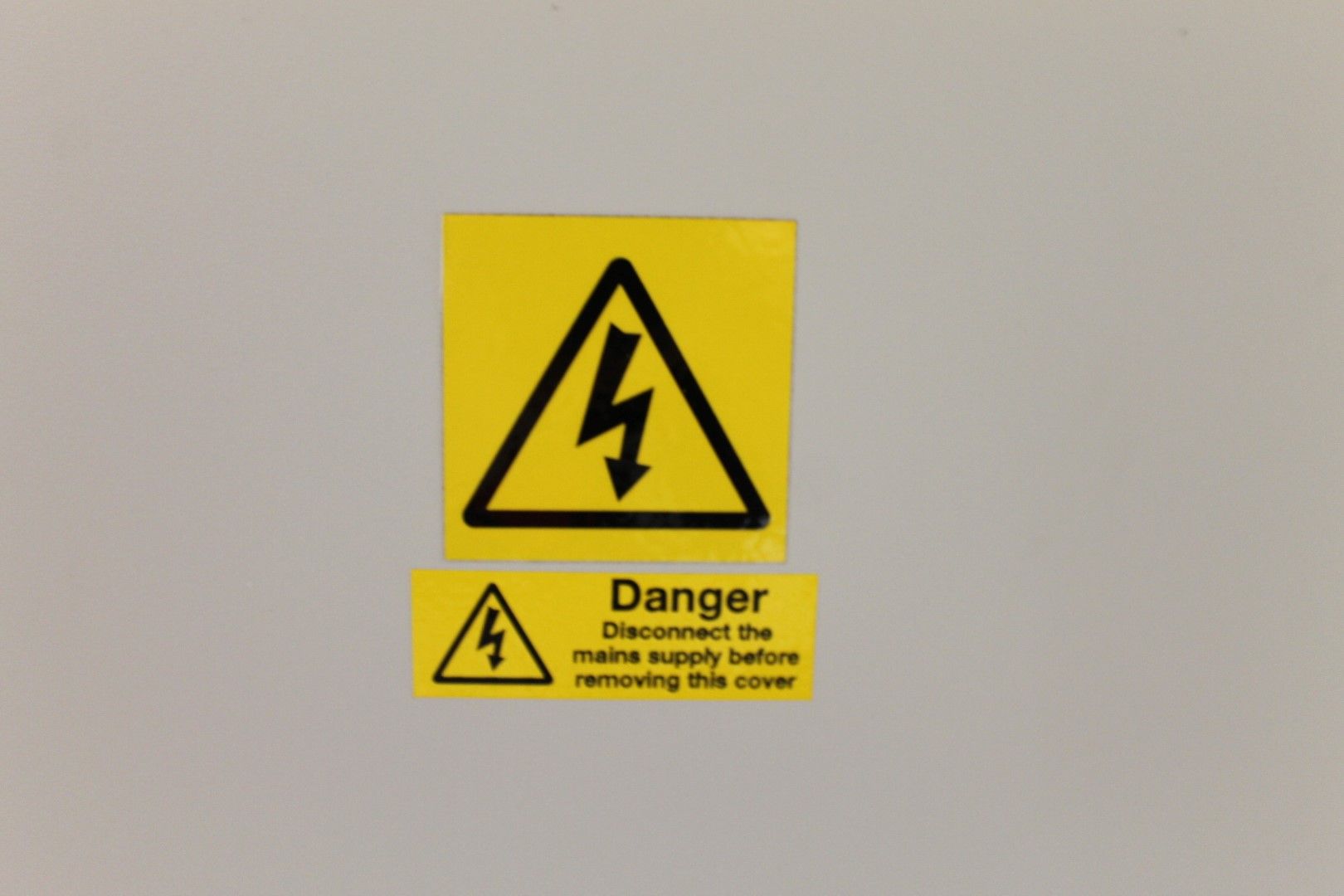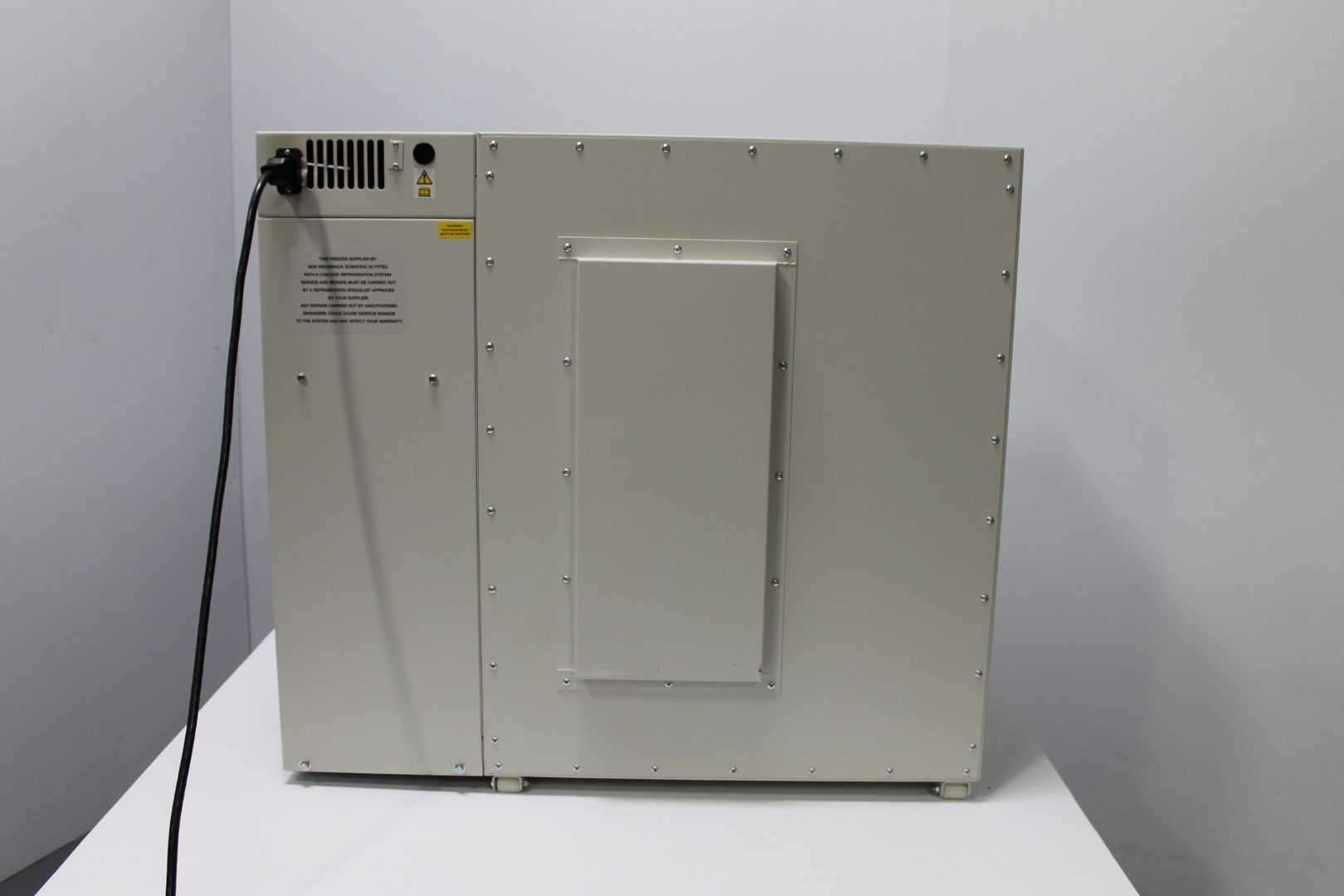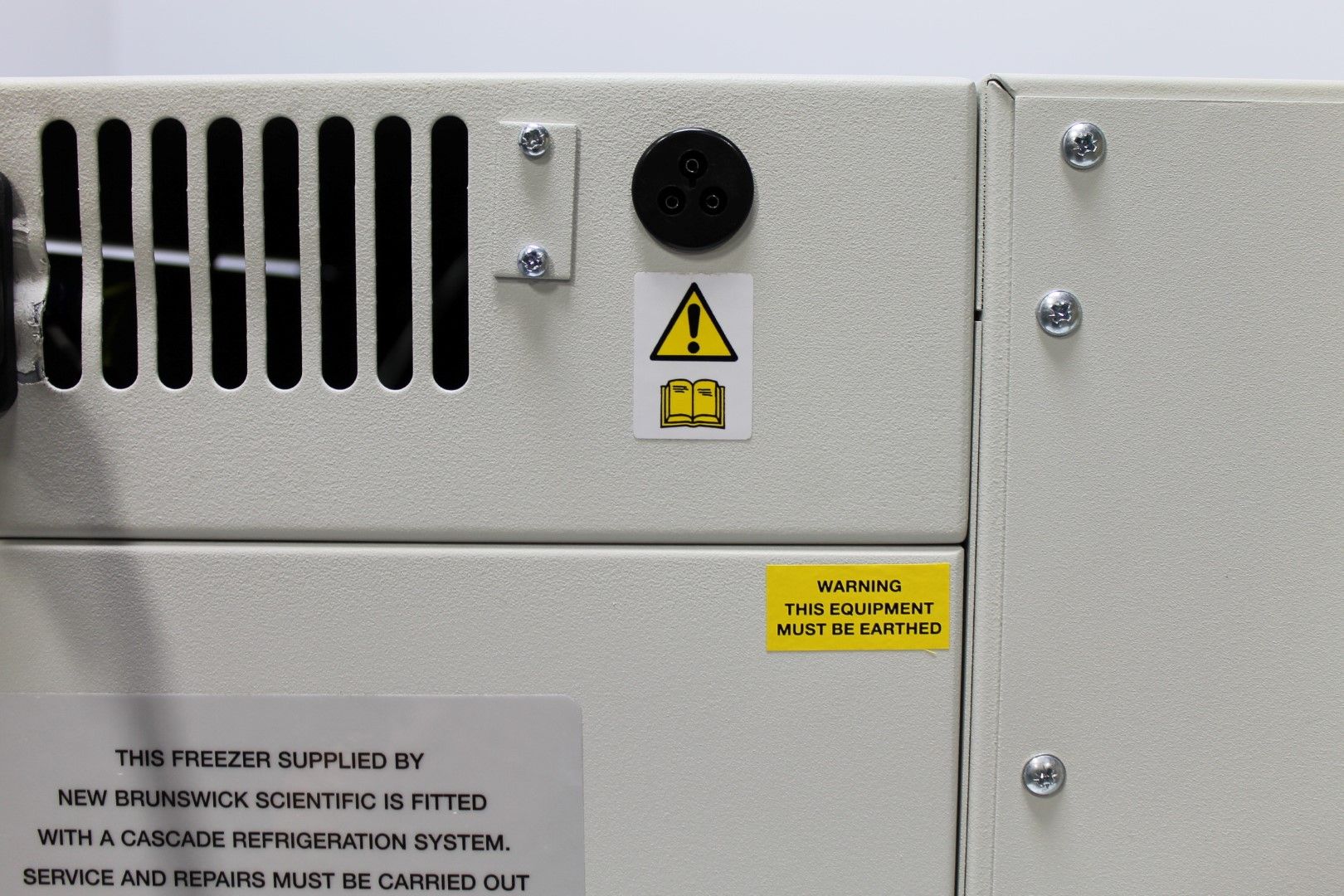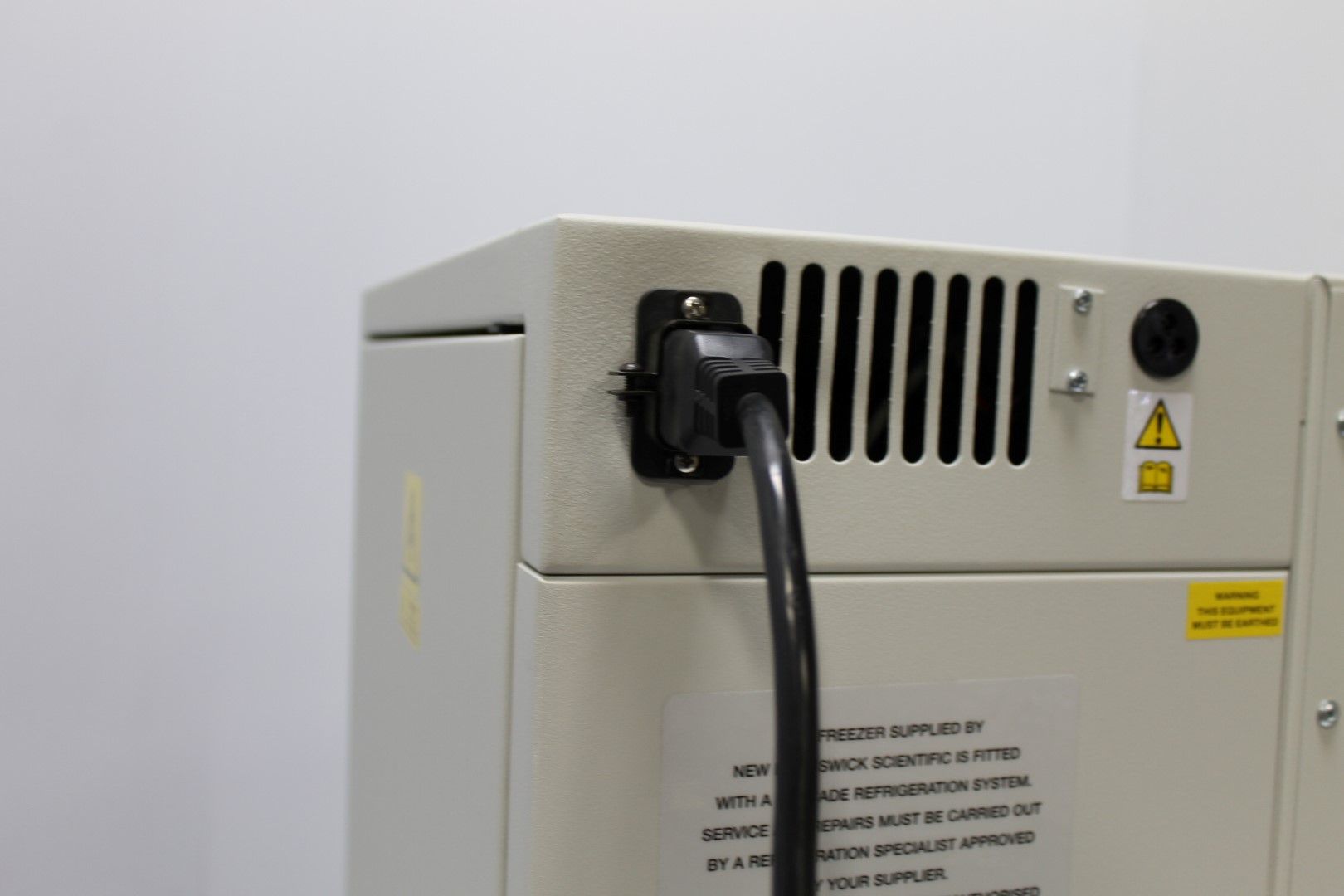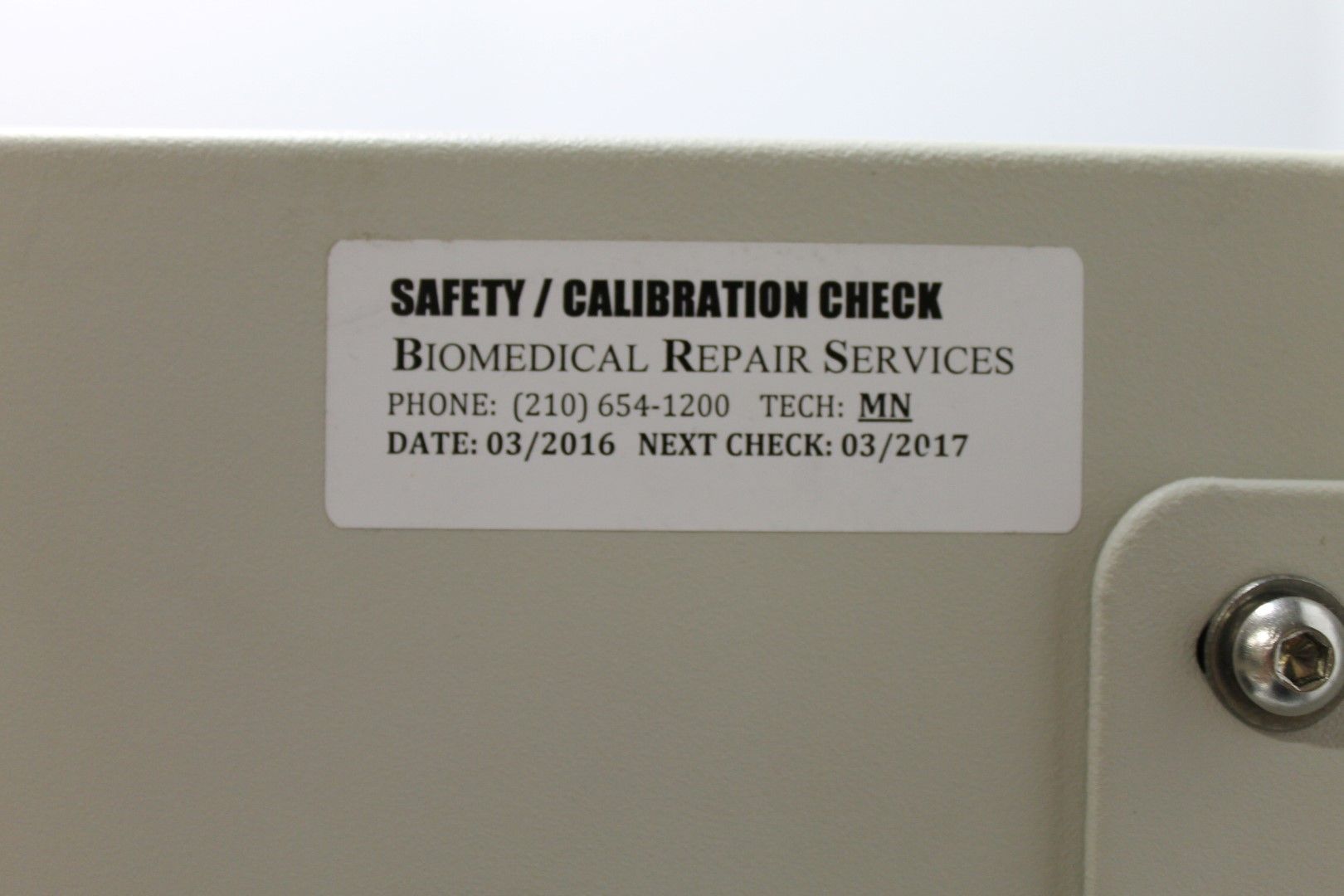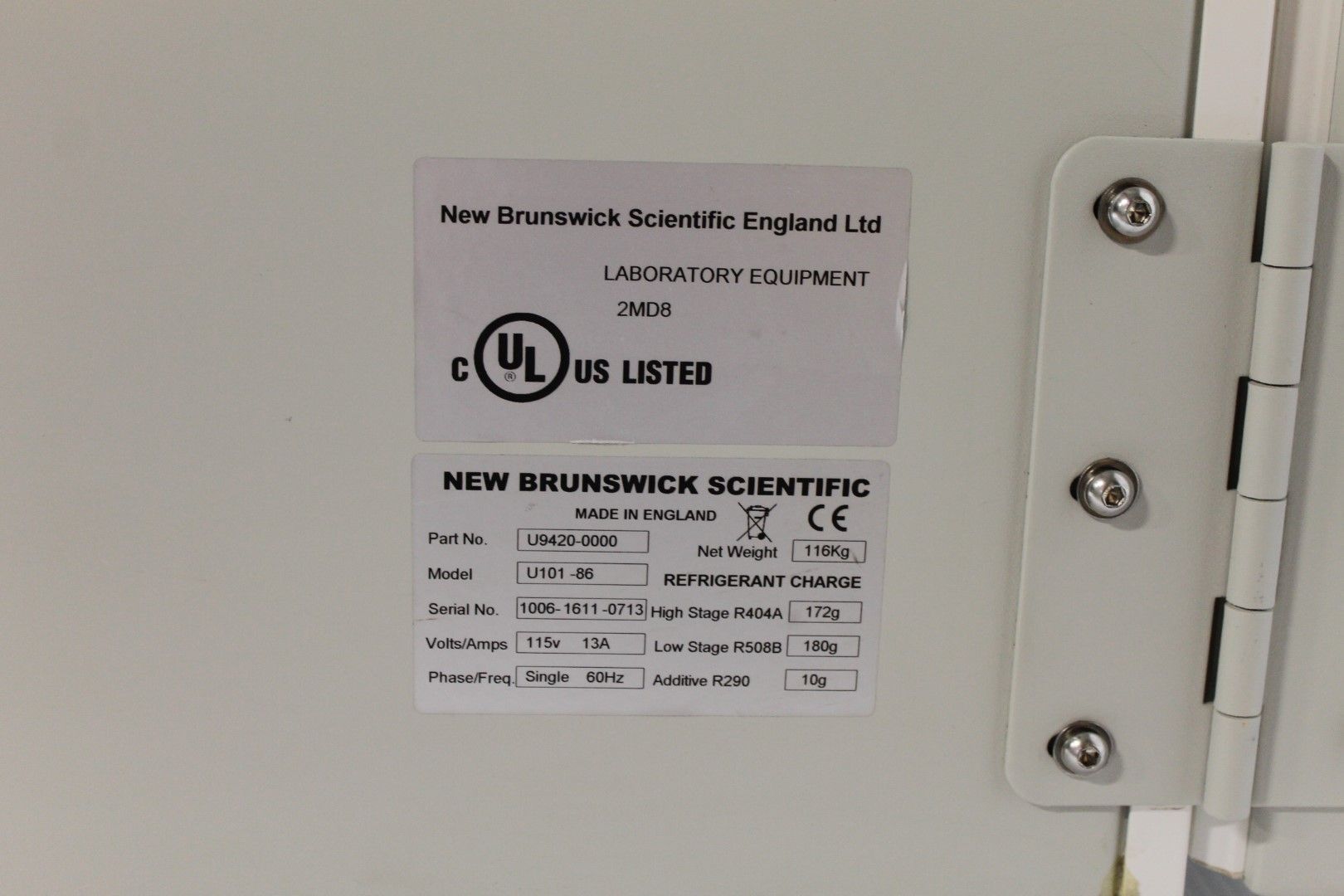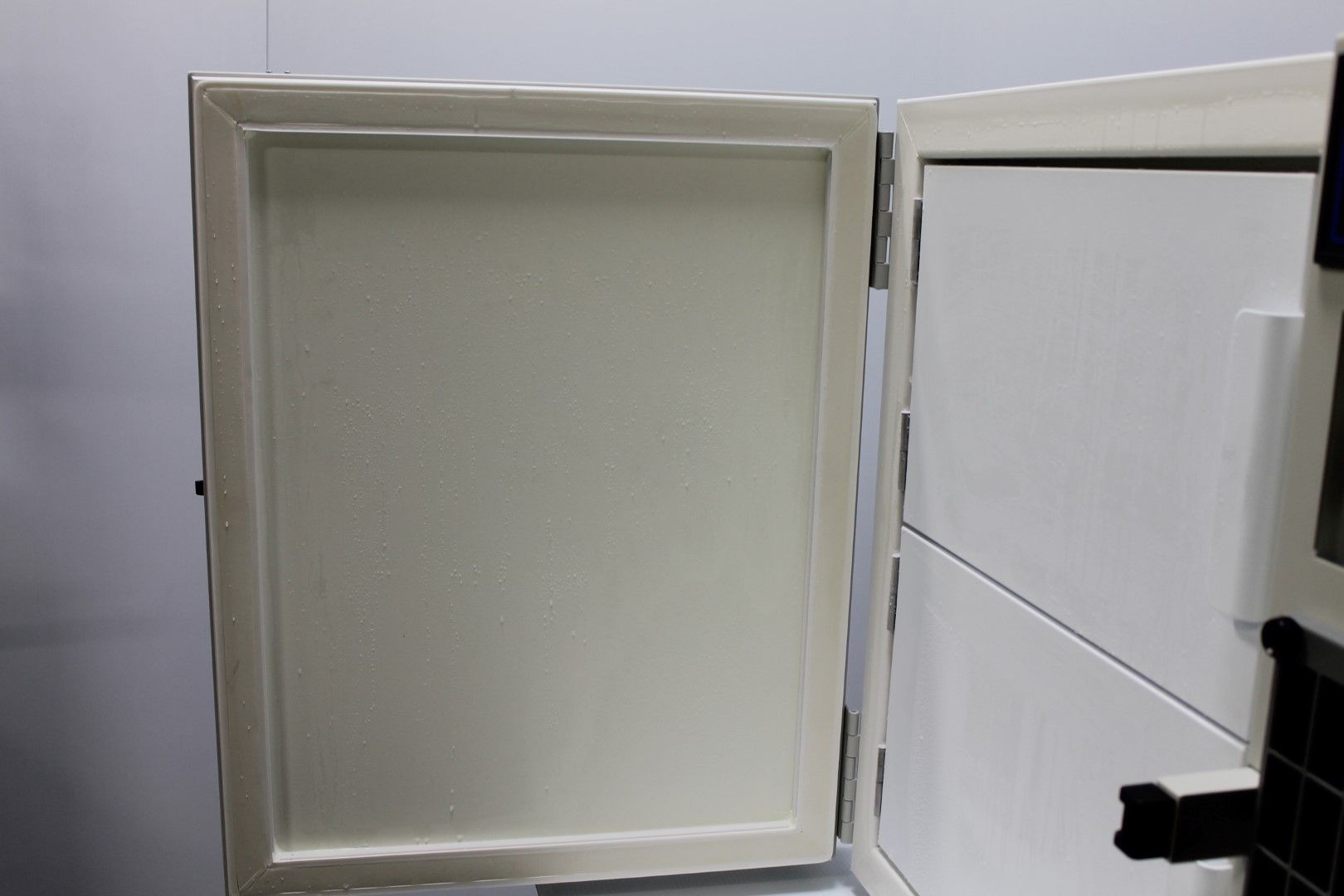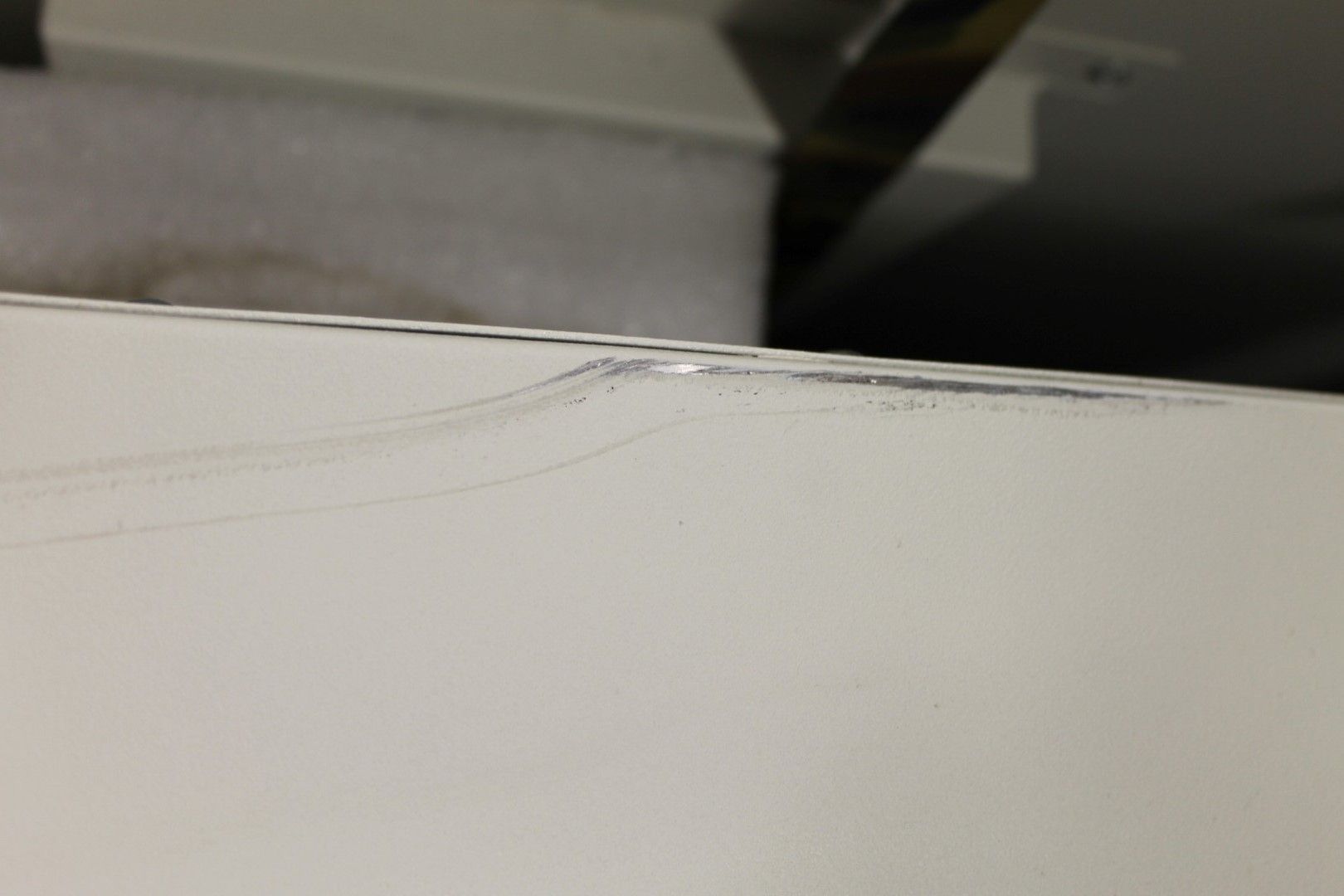 Eppendorf New Brunswick U101 Innova -86 Upright Freezer Sim. to U360, U535, U725
Manufacturer Description and Specification:
The Eppendorf New Brunswick U101 Innova Ultra Low Temperature Upright Freezer is manufactured using high quality steel and electronics for long life. The cabinets are insulated with a combination of foamed-in-place polyurethane foam and vacuum insulation panels. This combination ensures superior insulation properties while maintaining an extra large internal capacity for the footprint of the freezer. The Eppendorf New Brunswick U101 Innova Ultra Low Temperature Upright Freezer has many features designed to provide ease of use and maintanence, security and reliability to your ultra-low temperature storage needs. It is built to stringent regulatory requirements for safety and environmental friendliness and disposability, and they are CE and UL certified.
The Eppendorf New Brunswick U101 Innova Ultra Low Temperature Upright Freezer features include:
• Designed to be exceptionally energy efficient and eco-friendly.
• A setpoint keypad and digital temperature readout are provided on a control panel, located on the door of the upright freezer. Controls for setting the freezer temperature and alarm warning setpoints are enabled by an electronic lock. A unique code, which is selected by the user through the keypad, sets this lock. The code can be changed at any time, provided the current setting of the lock is known.
• Indicator lamps on the control panel provide warnings of power loss, system failure, exceeding High/Low temperature setpoints, low battery voltage, and filter blockage.
• Freezer is totally free of CFCs (Chlorofluorocarbons) and HCFCs (Hydrochlorofluorocarbons). They use industrial grade, commercially available HFCs (Hydrofluorocarbons) as refrigerants.
• Upright models utilize gasketed and insulated inner doors to reduce cold air loss and recovery times, reduce internal temperature fluctuations and conserve energy.
• The freezer can be fitted with an optional 7-day circular chart recorder to provide independent temperature recording.
• An automatic reset restarts freezer at random 15 second intervals to protect the microprocessor controller from damage by electrical spikes caused by multiple freezers turning on at once.
• Lockable freezer handles on outer door provide added security against unauthorized users.
• Multiple accessories are offered, including CO2/LN2 back-up systems, remote monitoring systems, external voltage stabilizer, inventory racking, and more.
Manufacturer Documentation:
Eppendorf New Brunswick U101 Freezer Brochure
Eppendorf New Brunswick U101 Freezer Manual