Cole Parmer MasterFlex L/S Peristaltic Pump 77200-12 w/ Easy Load Head
Stock:

SOLD

Brand: Cole Parmer
Product Code:

11432

Availability:

0
Here is a Cole Parmer MasterFlex L/S Peristaltic Pump 77200-12 w/ Easy Load Head

We have total of (2) of these Pumps. Each sold separately.

Predecessor to:
Current model.

Condition:
This MasterFlex L/S Peristaltic Pump is in good working order.

Testing we performed:
The Cole Parmer 77200-12 Pump was found to be fully functional:
Powered on, run at varying speed.
Hose installed and liquid transferred in forward and reverse direction.

System consists of:
Cole Parmer MasterFlex L/S Peristaltic Pump 77200-12
Power supply.

Configuration and Setup:
Speed Range in RPM: 35 to 200 RPM
Number of pump heads: one, model 77
Tubing in LS sizes: 15, 24, 35, 36
Flowrate with Installed Pump Head: max. flow rate per channel 560mL /min, min. flow rate per channel 2.1mL/min

Video Description:
Shows operation of the MasterFlex pump.

Documentation:
Datasheet: https://drive.google.com/file/d/0Bz5srQzgsa6uSm9PRklwNWliOVE/view?usp=sharing

Brochure: N/A

Manual: https://drive.google.com/file/d/0Bz5srQzgsa6uNFp6LVpzN1VWOHM/view?usp=sharing

Please do not hesitate to contact us if you have any questions.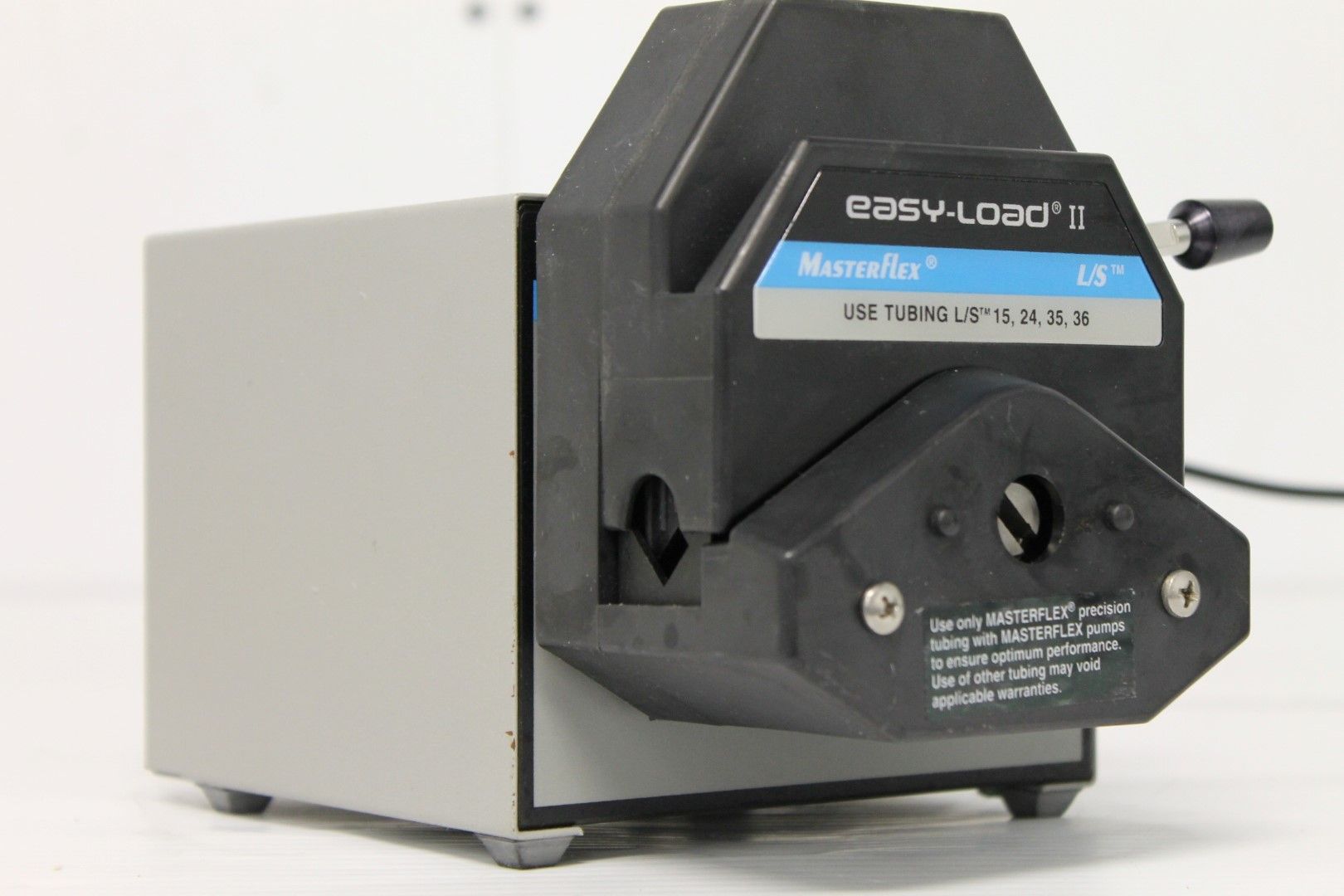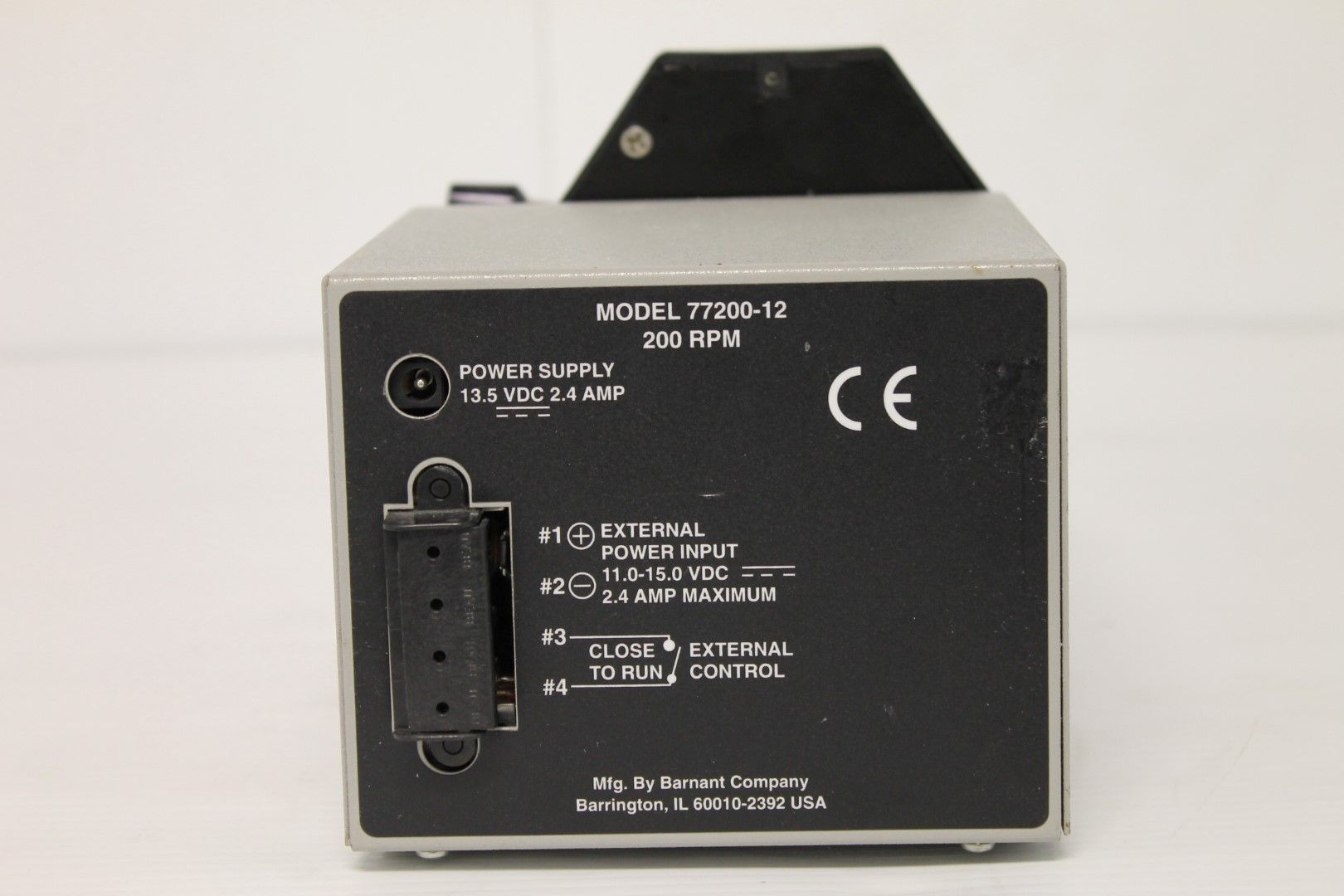 Here we are showing you our standard packing process
1. All items are different, but they all follow the same principle when packaging.
2. Start with a well-constructed crate
A well-constructed crate would consist of 1/2" to 5/8" Plywood with framing. We generally purchase our crates from a third party who specializes in custom crates.
3. You always want the Instrument to not be directly on the wood deck of the crate. This is done by placing it on foam, inside of the crate. We use 2" 1.7 lb. density foam which works great. It provides cushioning and enough firmness to support the Instrument.
4. The next step is to make sure there is nothing on the deck of the Instrument and the Head/ Arm is secured. In some cases there will be multiple arms to secure but for this example there is only one. The reason for this is so there is no free movement during transit which could cause serious damage to the Instrument.
5. The next step is to make sure your Instrument is covered in either a pallet bag or shrink wrap so no dust or foreign object will get into the crate.
6. The next step is to secure the instrument inside the crate by bracing. We use a method of 2x4's which have 1" foam shrink wrapped to them so no piece of wood touches the actual instrument.
7. Final step is to photograph everything inside the crate and then seal it with screws.
All equipment warranty request must have a support case opened within the 60-day Domestic USA and 30-day International warranty period.
To open a support case, please send an email to [email protected] or call (508)974-4896.
Please provide your name, contact information, quotation/invoice number and a brief description of the issue that you are experiencing.
Phone and/or Email support will be provided prior to scheduling a return.
Please see the link below for our detailed warranty statement.
Customers must retain all original shipping materials during the warranty period.